Search for any pattern name, number, or expression i.e. type "star" for any gobo with stars.
Stock Gobos
Rapid delivery and flat pricing even on Custom Gobo Sizes, no hidden charges.
Stock Metal Gobos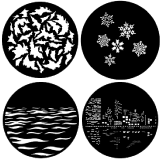 Available in Custom Sizes at the same flat price.
Metal Patterns, or gobos, are widely used by designers in theater, film, photography and television to create atmosphere, project scenery, and generally enhance the visual impact of their lighting. To insure design integrity the patterns are etched using a precise double-sided process on stainless steel. The result is durable, high quality patterns which will withstand the extreme heat at the gate of ellipsoidal spotlights.
Also available in Glass without the metal tabs!