Whether for branding, promotions, special events, or in other applications, GoboSource has all you need including Rosco brand stock metal gobos. Stock gobos are frequently used in architectural, landscape, and other applications such as holiday-themed parties and events or for other special occasions. Our stock metal gobos make it possible for you to achieve your desired effect, allowing you to project names, patterns, logos, messages, themed images or almost anything you can imagine in a way that captures attention.
You can create the perfect atmosphere using Rosco metal gobos for your unique needs whether at a wedding, holiday party, or any indoor/outdoor venue. Stock gobos are often used to project images including plant life, fire, flames, fireworks, lightning, water, holiday images, city skylines, animal prints, snowflakes; the list goes on and on.
At GoboSource we never compromise when it comes to quality, service, and fast delivery. If you are in need of Rosco stock metal gobos count on our team to deliver beyond your expectations. We have projectors and any accessories you may need to create the perfect image in almost any application.
Stock Gobos
Rapid delivery and flat pricing even on Custom Gobo Sizes, no hidden charges.
Stock Metal Gobos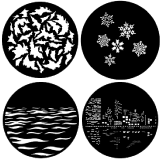 Available in Custom Sizes at the same flat price.
Metal Patterns, or gobos, are widely used by designers in theater, film, photography and television to create atmosphere, project scenery, and generally enhance the visual impact of their lighting. To insure design integrity the patterns are etched using a precise double-sided process on stainless steel. The result is durable, high quality patterns which will withstand the extreme heat at the gate of ellipsoidal spotlights.
Also available in Glass without the metal tabs!