FAQs
What do you need from me to quote a custom gobo?
We need to know the gobo type you are interested in, such as metal, black/white, grayscale or color. It also helps to know the projector type that you will be using. See our
Custom Gobo Page
for an overview and pricing. If you are not sure just go
here
for a quote and we will give you a recommendation and pricing. At this point, providing a .jpg or .gif file is just fine, also a link to a web page where we can see your artwork (for example a company logo) will do. For producing the gobo, we usually need better artwork as described in our
Artwork Guidelines
.
How fast can you deliver?
We can rush your gobos usually the same day if the order is placed before noon. Full Color or complicated color gobos may have to ship next business day. For important Same Day orders, place the order online and call us to go over the details. Please go
here
for details.
How much does Rush Service cost?
Rush cost widely change with the gobo type and production time. The easiest way to find out is selecting the gobo type from this page
Custom Gobo Page
and select the appropriate "Ready to Ship" option. Keep in mind that shipping cost are added during order check out. For example, if you need a gobo tomorrow, select the "Ready to Ship" option "Same Day" plus "Overnight Shipping" during check out.
Do you make metal gobos?
Yes, even though we recommend using glass gobos, metal gobos are a good alternative for lights that get too hot for glass gobos. Go to our
Metal Gobo
Page for product details.
How should I handle my glass gobo?
Handle a gobo carefully, its glass after all. Don't touch the gobo surface because the oil from your skin may 'bake in' when exposed to the high temperature of the light source. Remove fingerprints with a soft cloth. If necessary dampen the cloth with some alcohol. When not in use, store the gobo at a dry place.
How heat resistant are your glass gobos?
Every gobo/fixture combination is unique and it is not possible to specify exact numbers. Our borosilicate glass combined with highly reflective coating makes our gobos extremely heat resistant. We pride ourselves on making the most heat resistant gobos in the industry. For maximum heat resistance, always mount the gobo with the reflective side facing the light source. Adjust the lamp of theatrical fixtures for hot spots, especially after a bulb change, this is especially important for fixtures that use light bulbs with more than 575W.
How to mount my gobo inside the projector?
Follow the directions for your fixture. For maximum heat resistance, the reflective side needs to face the light source.
How to block out artwork from my gobo, such as a date?
Use automotive gasket silicone and paste a thick layer over the art that you wish to hide. Gasket silicone is heat resistant and works even in hot running projectors. Get the opaque dark red or black silicone to make sure no light bleeds through. It's available in small tubes for less than $5 in most auto supply stores.
What about gobo holders?
Gobos are usually placed in a gobo holder or gobo wheel and the most commonly used gobos are simple metal gobos. Glass gobos are thicker than metal gobos (our gobos are usually between 1.1mm to 2.7mm thick). Most fixtures take glass gobos but you may want to double check. We can mount larger gobos (like B, and M-Size) in a metal bezel so you can use your metal gobo holder.
Order Infos
I don't know all these things you want to know from me in the order form?
We rarely need all the information requested in the forms. Fill in what you know an we'll fill in the blanks or call you to follow up if needed.
How can I send you larger files?
If you use our standard online order system, you can upload files of up to 40MB size. If the file is larger or you need to send us another file, we recommend using "send.firefox.com". It's a simple and safe way to send files, no need to setup an account and the file will automatically be removed after a certain time. You can email us regular files by referring to the order number, or login to your account at gobosource.com and upload it from the order history page.


Fixture Make and Model
Almost every light fixture type has it's own distinctive characteristics and uses special gobo dimensions. We can do the best job if we know the exact make and type of your light fixture. If you don't know the fixture type, we need to have the required Outer Diameter and Image Diameter of the gobo.
Standard Gobo Sizes
Some fixtures use standardized gobo sizes such as A, B, D, E, M.. These define the Outer Diameter AND the Image Diameter of your gobo. For example, per definition, a 'B-Size' gobo has an Outer Diameter (OD) of 86mm and and Image Diameter (ID) of 64mm but these dimensions can vary. If you know that you need a standard gobo size, you can state this instead of the Outside- and Image diameter.
Gobo Outer Diameter (OD)
Is the outer diameter of the gobo disc, usually measured in (mm). If you don't know the light fixture type, we need to know at least the Outer Diameter and Image Diameter of the gobo. Even if you tell us the fixture type, it is always a good idea to state the gobo dimensions as well so we can double check.
Gobo Image Diameter (ID)
Is the maximum diameter of an image on the gobo, usually measured in (mm). The Image Diameter has to be smaller than the Outer Diameter. If a gobo is manufactured with an Image Diameter that is too large, some outer areas of the image may be cut off from the projection. If you don't know the light fixture type, we need to know at least the Outer Diameter and Image Diameter of the gobo. Even if you tell us the fixture type, it is always a good idea to state the gobo dimensions as well so we can double check.
Which B-size glass gobo type to choose?
B-size is the most common gobo size. Most 3.5" ellipsoidals (or lekos) such as the ETC Source Four (not Source Four JR) or most Altman types use this size.
Our B-size glass gobos are mounted in metal adapter rings. These bezels allow using our glass gobos in common metal gobo holders and thus eliminate the need for glass gobo holders.

We offer two different standard sizes for B-size gobos. One with a smaller image diameter and one with a larger image diameter. Both have certain advantages and disadvantages.

B-size with 48mm Image Diameter

B-size with 60mm Image Diameter

Dimensions

Outer diameter: 86mm (3 1/4")

Image diameter: 48mm (1 7/8")

Outer diameter: 86mm (3 1/4")

Image diameter: 60mm (2 1/3")

Advantage

Has a better focus uniformity than larger image diameter.

Projects the max. possible image size.

Disadvantage

About 23% smaller projection size than larger image diameter.

Image may get fuzzy on the outer edges with most lights.

When to Choose

When best projection quality is desired.

When the max. possible projection size is desired.
Do you make A-size glass gobos?
Yes, these have an outer diameter of 100mm (4") and an image diameter of either 48mm or 60mm. Please see Which B-size glass gobo type to choose? for the difference between the two image sizes. For custom glass gobos we recommend using the B-size types instead since A-size gobos may have to be trimmed down in certain fixtures while B-size gobos fit usually fit such fixtures.
Center for Rotation?
We usually center an artwork on a gobo. Sometimes, when for example a company slogan is rotated, it looks better to center the base line of the text instead of centering the physical middle of the logo. Let us know if you want to rotate the gobo.
Is Image Rear Projected? / Is Gobo Used in Scanner?
For rear projection (projecting against the back side of a screen) and in scanners, the gobo artwork needs to be mirrored. This is especially important for text projection. For symmetrical graphics, it is not necessary to mirror a gobo because it looks the same in both ways.
You can flip our gobos in case you need them mirrored but it is preferable to have the coated side facing the lamp.
Gobo Projection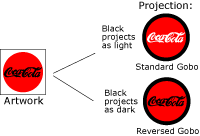 Gobos are usually processed in "Dark Field", which meansthat the artwork is reversed so that black artwork projects as light and the rest of the gobo is blackened out. In this case, please select the "standard" option. If you wish to project black artwork as dark, then pls. select the "reversed" option. Colors usually remain unchanged.
Description of Art
Enter the filename of the artwork design file that you will email to us. Add additional comments if applicable.
Color Reference
We try to match the colors of your artwork with the colors of our Standard Color Palette as closely as possible. Please notify us If you need us to exactly match your color. This may incur additional costs. We are able to make virtually any color, but we cannot guarantee the exact match of your colors in the resulting projection due to variations in the fixtures and projection surface. Please let us know if you have special requirements.
Deliver by
Enter the date by when you need the gobos delivered. Please see our shipping options and terms.
Number of Copies (Duplicates)
Enter the number of additional duplicates to the original gobo. Duplicates cost less expensive than the first gobo and the total cost is calculated automatically if you order online.
Multiple gobos of multiple different artworks count as originals.
Multiple gobos in different sizes count as originals.
Reorders of artworks count as originals.