ECO Lines Virtual Line Projector
Line Projector for Lanes, Walkways and Docks ECO Lines projectors are perfect for pedestrian safety, reducing accidents by increasing the facility awareness with visible walkways, aisles, or lanes. They reduce accidents, and unplanned work stoppages for safety signs maintenance.
How To Order:
Enter your requirements in the fields above. We will verify your information and get back to you with any questions. Once we selected the correct product, we will contact you with the exact product specifications. Once you're ready, we'll proceed with your order.
Specifications:
Projects a 3 to 4 inch wide line on any surface
Line length Options: 1.5 x Distance, 1 x Distance, 0.5 x Distance
Available Projection Colors: Amber, Blue, Green, Red
Working Lifetime: 30,000h
Operating Temperature: 32 to 104F (0C to 40C)
Line Power: AC Power Supply 110 to 240V, 80W (included)
Housing: Aluminum anodized
Dimensions: 8" x 8" x 9.25"
Weight: 6lbs
Focusing Distance:
Unlike regular projectors, the VirtuaLine LED projectors have no adjustable focus. Instead, they come pre-set for different projection distances. The fixed focus distance brackets are:
Amber color lines: 13, 17, 20, 24, 28, 34, 46ft
Green color lines: 13, 17, 20, 24, 28ft
Red and Blue colors tbd
Therefore we must know your projection distance range to select the correct model for you. If your mounting distance is slightly outside of these brackets, the line will still show, just not as crisp.
Line length:
Virtual Line LED projectors project fixed line lengths that depend on two factors: Projection Distance and Fan Angle. The larger the fan angle and the projection distance, the longer the line. There are three fan angles, 73°, 53° and 30°.
Projection Length Examples for Amber Color at 24ft Projection Distance:
(See Photometrics for details)
73° fan angle model: 33.7ft line length and 86fc brightness
53° fan angle model: 22.7ft line length and 150fc brightness)
30° fan angle model: 12.2ft line length and 252fc brightness)
Photometrics for Amber and Green Line Colors:
(Red and Blue color data in preparation)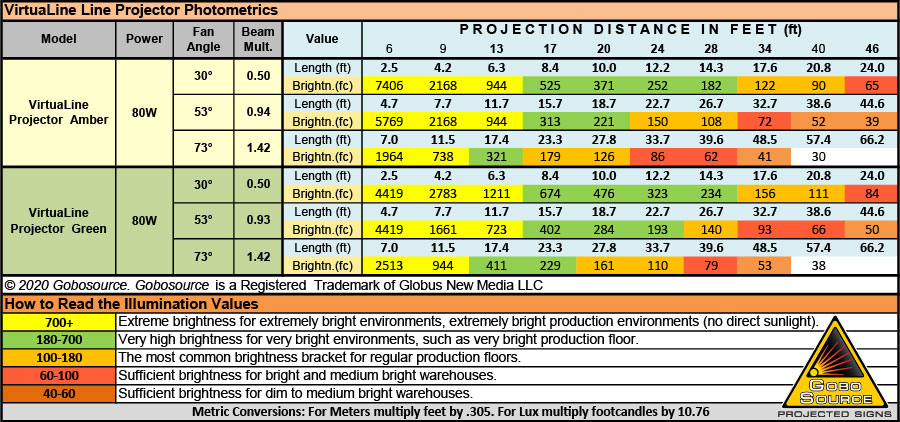 Documentation: