Increase Safety and Reduce Costs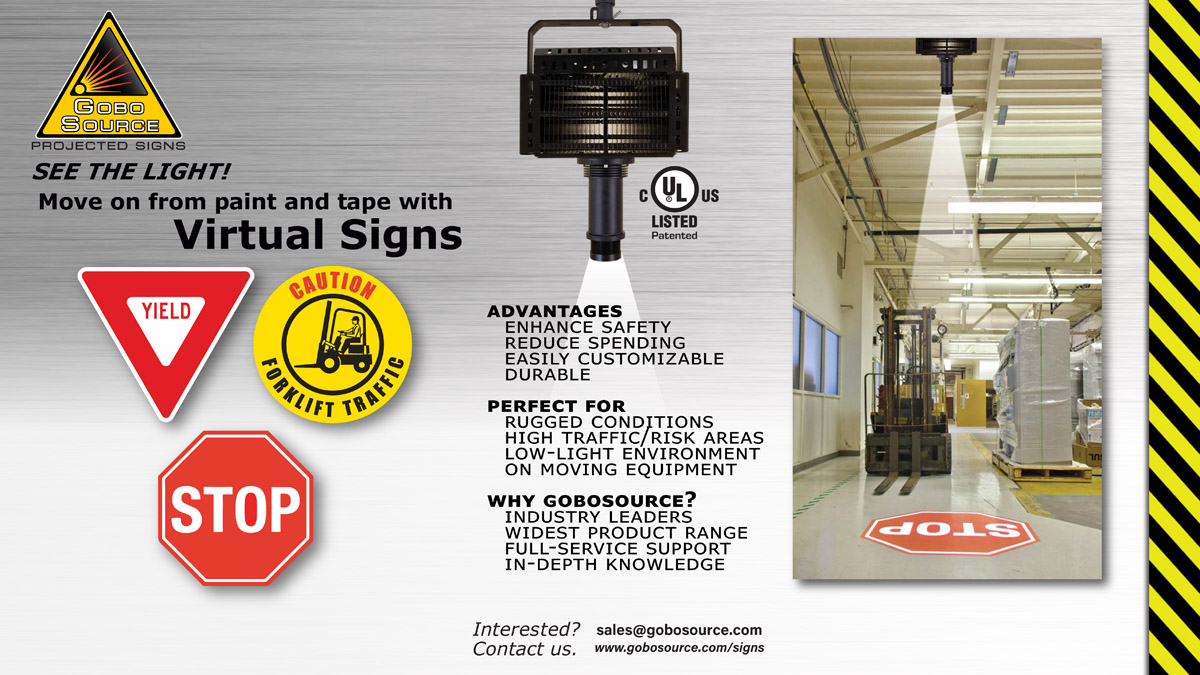 Projected Signage...

doesn't wear off, even under the most stressful conditions. It's easily visible in any lighting and can be projected on almost any surface.

Safe Work Environment

Keeping warehouse workers safe requires more than just helmets and goggles. Projected signage is one of the most important components of a safe work environment, outperforming tape, paint or adhesive labels. Read our Projected Signage 101 Blog for information on how to effectively project signs and markings throughout your warehouse or industrial space to ensure the safety of you and your crew, even in the most high-impact work environments.

Virtual Safety Signage Brochure
How it works?

Instead of constantly replacing old signage, virtually projected signage only requires an image projector (called a gobo projector) and an image carrier (called a gobo). The gobo is placed inside the projector, comparable to a slide but far more durable. The projector is installed in a convenient space adjacent to the projection area, such as the ceiling. Your chosen safety message is then projected onto the appropriate surface, clearly visible even in poor lighting conditions.

Learn more our Blog Post
New Virtual Line Lasers

Virtual Line Lasers create an indestructible, thin, eye-safe floor line that eliminates the need for maintenance required by floor tape and paint lines. They are extremely compact and lightweight, IP65+ rated and durable. Our Line Lasers are easy to set up and require little maintenance, so you won't need to worry about replacing or repairing floor tape and floor paint anymore.

Shop Line Lasers
Are you a Reseller?
We can develop customized solutions for you. Please call or email us at sales@gobosource.com. Download our reseller application below.
Reseller Application Form
To browse our Virtual Safety Signage products, click the product groups below. You can also call us (1-800-270-6449) for more information or for help creating a customized solution.