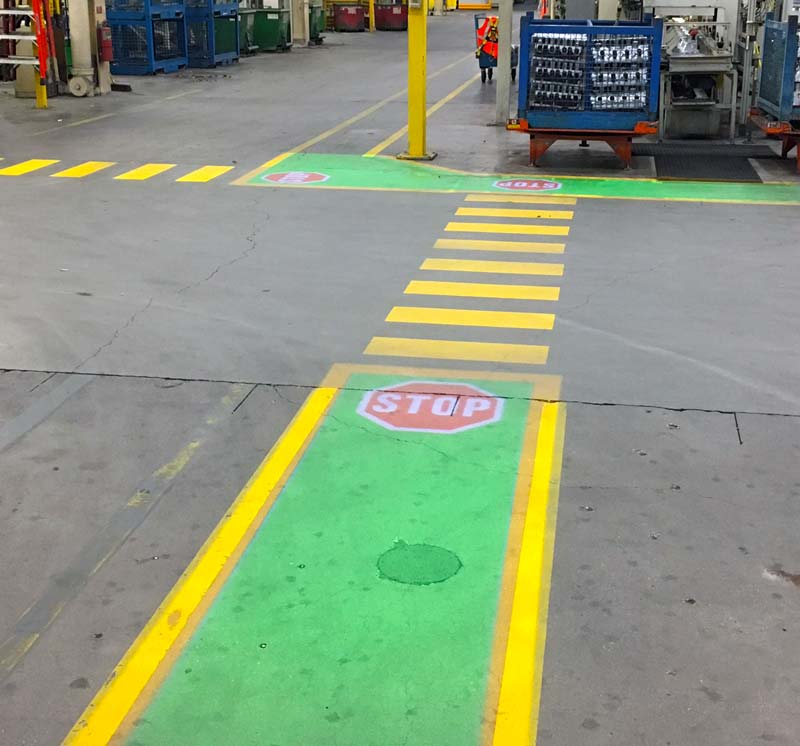 For both safety and efficiency, it's important to clearly mark walkways and storage areas throughout an industrial space like a warehouse or manufacturing plant. While tape and paint can do the job, virtual lines don't fade or wear off over time, providing the safest environment for workers who encounter forklifts, hard hat zones, and other potential dangers.
Go virtual in dynamic work environments
Virtual walkways, crosswalks, and designated drop-off areas can also be easily moved without the requirement of surface preparation or wait time for drying or sealing. Virtual lines can more readily adapt to a dynamic work environment where walkways and designated drop-off areas may change from week-to-week. Plus, virtual lines are highly visible even in low light conditions and last years rather than months.

Depending on the type of walkway, aisle, lane, or designated area you need to create, there are several options for how to create virtual lines. These include VirtuaLine Lasers, Virtual Line Projectors, and Gobo Projectors. Below, we've outlined the differences between each of these options and how to select the right one for your unique needs.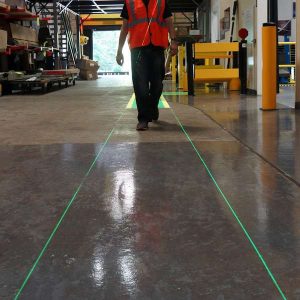 VirtuaLine Lasers that meet IEC safety classification 3R, are eye-safe and don't require any safety equipment. They can project a single line at a time, up to 50 feet in length and up to ¼ inch wide. For walkways longer than 50 feet, you can easily install multiple lasers to create a continual illuminated line across your space.

Our line lasers come in two colors: green or red. Green is slightly brighter and best for environments with a high amount of ambient light.

Line lasers are also an efficient way to mark designated areas that change often, such as where to place a pallet. The thin lines are good for outlining small spaces where employees should stack boxes, park vehicles, or store equipment.
VirtuaLine Laser Specs
Line width: ⅛ – ¼ in
Line length: Up to 50 feet per laser
Line appearance: Bright, thin
Line colors: Red, green
Power usage: Low, 1-3W
Life: 9,000h
For more information, visit our VirtuaLine Lasers page.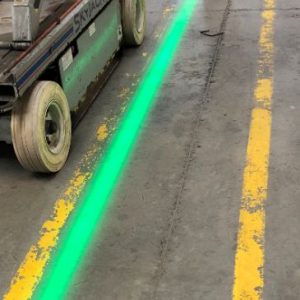 Virtual Line Projectors also project one line at a time but at a width of 3-4 inches. There are different models available depending on your mounting distance range and desired line width. Although the lines are not as sharp as those projected with a gobo projector, if you have enough projection distance, a line projector can project a line up to 50 feet in length in a typical warehouse. To achieve the same length line with a gobo projector you would need a minimum of three projectors. You can combine two or more projectors to create a walkway or to extend the line length. Line projectors also come in a wider range of colors than lasers with your choice of amber, green, red, and blue.
Virtual Line Projector Specs
Line width: 3 to 4 inches
Line length: Up to 50 feet per projector
Line appearance: Bright, slightly fuzzy
Line colors: Amber, green, blue, red
Power usage: Medium, 80W per projector
Life: 30,000h
For more information, visit our Virtual Line Projectors page.
A gobo projector gives you the flexibility to fill a given area with virtually any content you desire, such as walkways with colored diagonal lines or colored fill combined with additional signs. This is helpful for creating highly visible pedestrian crossings. The maximum length of a projected segment is limited to about 15 feet. Larger areas require multiple projectors. However, there are virtually unlimited options as to what you can project.

A gobo projector can project a stock Virtual Sign Gobo, such as a basic black and yellow crosswalk or a yield to pedestrians red, yellow, and white crosswalk for forklift crossings. You can also design your own sign, in any color and shape with custom gobos for situations that may be unique to your work environment.

While most ECO Spot projectors will work for virtual sign projection, our ECO Spot PCE projector line was designed for their superior ability to function in industrial environments.
Gobo Projector Specs
Line width: Any width or shape
Line length: Up to 15 feet
Line appearance: Sharp, well-focused
Line colors: Any color or pattern
Power usage: Medium to high, 25 to 300W
Life: 30,000h
Leverage our expertise for your virtual line solution
The product you select to create virtual lines in your workspace depends on a variety of factors including desired color, line thickness, line length, projection distance, and whether or not your walkway requires a fill of any kind. As you explore your options, our team is available to walk you through the process to ensure you order the best virtual line setup for your specific needs.