Monogram Gobos for Any Special Occasion
Wedding Gobos - Personalized Gobos - Sweet Sixteen Gobos - Quinceanera Gobos
A personalized monogram is a classic way to put the spotlight on the happy couple or the guest of honor at an event. Our customizable gobo templates make it easy to design the perfect gobo for special occasions. Select a customizable design in metal or glass (B/W or grayscale) below.
Monogram Gobos from your own artwork
Have your own design? If you have your own artwork or special requirements, select the type of gobo you'd like from our
Wedding Custom Gobos Page
and then you'll be prompted to upload your design.
Monogram Gobos made from scratch
If you don't have your own artwork, we may still be able to help you. Send us an email with your ideas or email or fax us a scribble. We will then quote you for a custom design. The cost for a simple design is typically less than $39.00.
Free Mockups
For all order types, you will receive a free mockup and have the ability to cancel your order, free of charge, at anytime.
We now also have an online selection of
Sweet Sixteen
Gobos and
Quinceanera Gobos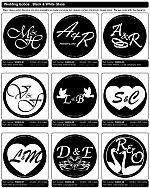 Printable Wedding Gobo Catalog
with 100s of Wedding, Sweet Sixteen, and Quinceanera designs. Print and bring it anywhere. (Adobe PDF format approx 16MB)
Are you a reseller? Call 1-831-431-8800 or email for a non-branded catalog.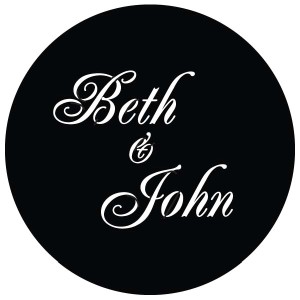 Metal Wedding Gobos
$79.00 for the original and $29.00 per duplicate.
Features a cut-out design, requiring that the gobo size be larger than 1.5 inches (38 mm) for more intricate designs. You can also upgrade to glass.
Many Glass Gobos can be "downgraded" to metal designs.
for rather complex designs the gobo size should be larger than 1.5 inch (38 mm), smaller gobos require simple designs or an upgrade to glass.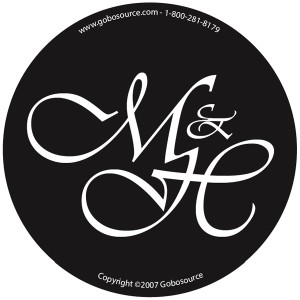 B/W Glass Wedding Gobos
$109.00 for the original and $69.00 per duplicate.
Laser-etched and works well for any gobo size, even small gobos for automated lights.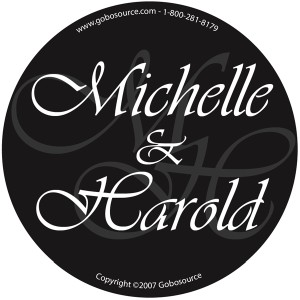 B/W and Grayscale Glass Wedding Gobos
$139.00 for the original and $79.00 per duplicate.
Perfect for elegant designs with overlays.
Laser-etched Glass Gobos work well for any gobo size, even small gobos for automated lights.
Where are the color options?:
If you'd like to incorporate color into your gobo, see our
Custom Gobo
overview page.
What else is Needed?
For projecting your gobo image, you need a gobo projector. Ask your DJ or venue if they have a light for projecting custom gobos and write down the projector make and model and/or gobo dimensions. We need this information for producing the correct gobo for your needs. You can also rent a projector from a local event lighting store or buy one from us.