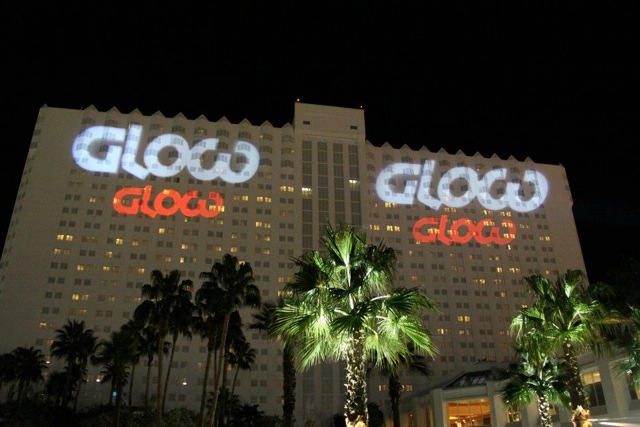 Workplace branding includes everything from your building's infrastructure to the office furniture and plays a large role in conveying company values and ethos. A well-branded workplace can also inspire your employees, foster loyalty, and attract both new talent and customers. You don't have to completely redesign a space, however, to achieve this effect. It's easy to reflect your brand throughout your space through the strategic use of branded signage.
Physical signage, however, can be cost prohibitive and unwieldy. Ensuring your company name, for example, is legible from across the street, at night, is a real challenge. Inside your corporate space, it's hard to commit to semi-permanent painted signage or to a physical sign that requires costly installation.
Physical and painted signage has its place, but for modern companies that are continually evolving, projected signage with gobos allows you to adapt with the times and stay ahead of the competition. There are countless ways to integrate custom gobo projections into your space, whether you're looking to add artistic highlights to a tired workspace or display your brand prominently at the entrance. Below, we've put together four workplace branding ideas that only require a projector and custom gobo.     
1. Interior and exterior signs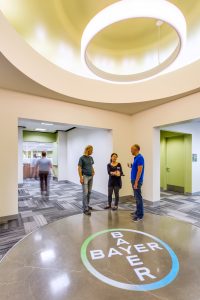 The most important branded sign is, of course, your logo and company name. While there are many situations, like trade shows and conferences, where it's important to have memorable signage, branding your own building should be the top priority. Displaying your logo and company name prominently at the office immediately elevates the space and establishes an unmistakable presence. Onsite branded signage not only informs the public of your company's existence, it also is a constant reminder of your brand aesthetic and ethos to employees.
Although this type of signage is a must, it can also be cost prohibitive. In addition to being expensive, physical signage requires a long-term commitment to a specific location, size, and material. While we recommend one prominent physical sign at the entrance, a custom gobo projection allows you to display your logo and company name in additional locations and in a variety of sizes.
Try projecting your logo above the desk in your main lobby, in your conference room, and across a blank wall in an open workspace. (We recommend the ECO Spot LED B150 projector.) To draw attention to your brand after dark, project your logo and company name across the outside of your building, large enough for drivers to see on their evening commute. (For most large outdoor projections, we recommend the ECO Spot LED B150E  or B300E . For exterior architectural lighting, such as large building facades and special animations, we suggest the GOLUX projector line.)      
2. Temporary art installations
The experience of your corporate space has the potential to make a lasting impression that can either help or hinder your ability to court clients and other valuable business partners. It also plays an important role in employee morale and productivity. To keep your space modern and fresh, rotate through a variety of branded gobo projections depending on the season, holidays, or company campaigns. Project inspirational quotes, custom images, or colorful patterns throughout your building. Easily stay on brand by designing custom gobos that incorporate your brand colors, fonts, and overall aesthetic.
3. Directional signage
For larger buildings, help visitors (and employees) navigate through your space with projected directional signage. Remember, your signs can do more than indicate the nearest exit or restroom. Take the opportunity to brand your signage by using custom fonts and icons and including your logo mark whenever possible.
4. Custom projections at onsite events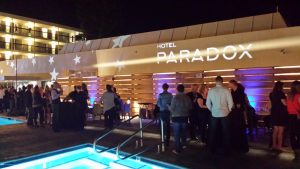 Use gobo projections at your onsite events like fundraisers, conferences, product launches, and your annual holiday party. Light up main walkways, gathering areas, featured exhibits, and the night's speakers. Establish a theme with a combination of stock gobos and custom images. (We did the leg work and put together suggested gobo designs for 7 different event themes from island luau to classic vintage.)
While it's important to display your logo and company name in public spaces outside of the office, it's equally important to integrate your brand throughout your home turf. Workplace branding with custom gobo projections gives you the flexibility to continually evolve your signage to meet changing needs and expectations. Contact our sales team to discuss the best projector and gobo setup to achieve memorable workplace branding for your modern corporate space.  
Related posts:
Large-scale Outdoor Projection 101
Must-Try Alternatives to Billboard Advertising
How to Select the Right Projection Lens for Your Projector
Your Marketing Solution for Trade Shows, Conferences, and Corporate Events
Want to make sure you don't miss new product releases, gobo lighting tips, and special deals?