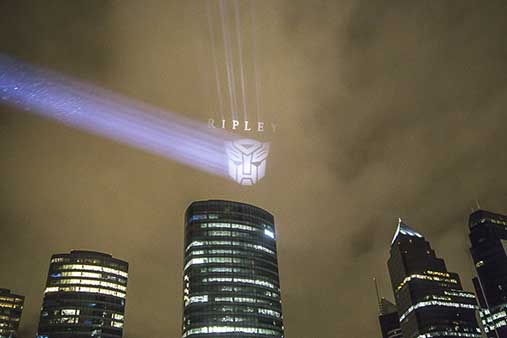 Brand identity is key to growing your business, but your company will get lost in the sea of competition if you don't put yourself in the limelight. From trade shows to onsite branding, the challenge is how to make a lasting impact when there are countless other companies vying for everyone's attention. Fortunately, there's a simple and versatile solution that's effective in a variety of corporate event settings and can be reused again and again.
Read on for an affordable marketing tactic that's easy to continue throughout the year:
Onsite Marketing at Trade Shows, Conferences, and Conventions

65% of people are visual learners, so it's crucial that you invest in eye-catching imagery for your audience. Visuals also improve our ability to retain and comprehend information. Make a lasting impact the next time you attend a trade show by projecting your logo, product shots, and more, using a custom gobo. If you have the opportunity to present on stage, project your logo as a backdrop so the audience has a visual to associate with your brand.
Corporate Event Promotion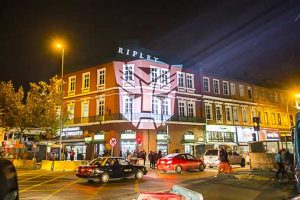 When you're the host of a large corporate event, is your brand highly visible to the public? When people walk past your building or drive down the highway can they easily see your logo and key event information from the road?
Keep your brand top-of-mind and attract more attendees to your next conference or fundraiser with a large-scale custom logo projection. The GOLUX projector line can project your logo several stories high without sacrificing clarity or brightness. Project images up to 3,000 feet away and add motion effects for a truly eye-catching display.
Attract Sponsors

Landing big sponsors for a corporate event is no easy feat. You need to have a compelling company story and inspiring mission, appeal to the sponsor's current needs, and, of course, deliver enticing incentives. Perhaps the most coveted of these sponsor incentives is free marketing. In addition to mentioning a sponsor on social media and in your email campaigns, give them an offer they can't refuse. Put your sponsor's name in lights and project their logo on the side of your building, as the backdrop to the event stage, or on the floor of an auditorium,  depending on your event.
Big events are the perfect chance to promote your brand and reach new customers. Custom gobos allow you to shine a spotlight on your business and stand out from the competition. To make sure you pair your gobo with the appropriate projector, check out our list of gobo projectors by application. From trade shows and conventions to the ideal model for frequent promotion and travel, we have a projector to suit all your needs.
Want to make sure you don't miss new product releases, gobo lighting tips, and special deals? Subscribe to our Newsletter