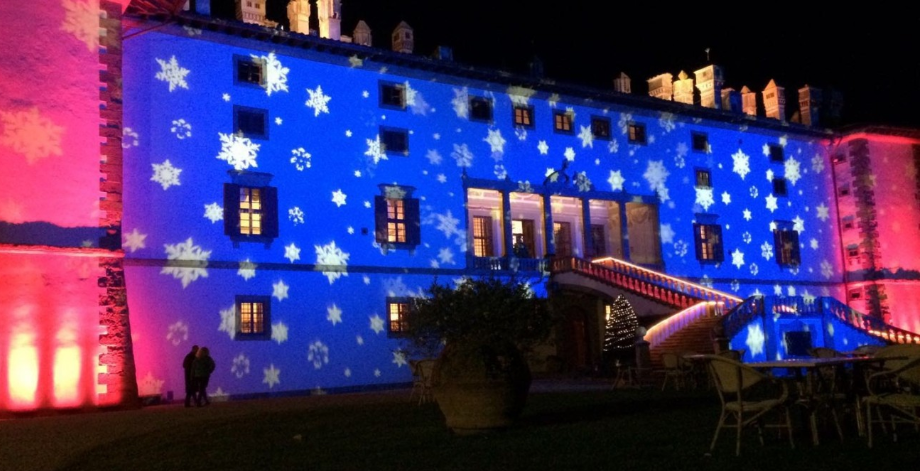 Showy light displays featuring projected images have become part of holiday tradition and for good reason. Putting up strings of lights, especially on large structures is time-intensive, strenuous, and sometimes, dangerous, work. Holiday gobos combined with the right projector and special effects can easily transform both indoor and outdoor commercial spaces, without untangling last year's ball of lights, using wobbly ladders, or damaging surfaces.
Here are some easy and impressive commercial holiday lighting ideas that will spread holiday cheer and light up the long winter nights.
Hotel Lobby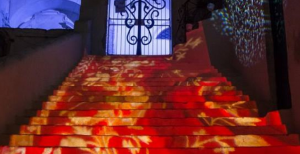 Instantly brighten your hotel lobby with a winter wonderland scene. Project a pile of gifts on the side of the front desk and a Christmas tree on the wall behind it. Illuminate an unremarkable stairwell with a wash of red or green or project a wintry pattern like snowflakes.
Corporate Holiday Party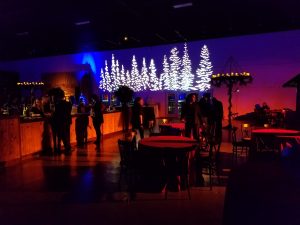 Save both money and time by using gobos to decorate your corporate holiday party. When you use gobos, the setup and cleanup is a breeze and the results are even more impressive than tinsel and mistletoe. Try covering a blank wall with a wintry forest scene, snowflakes, or a festive wreath.
Investing in a compact gobo projector and a few holiday gobos is a cost-effective way to throw a memorable holiday party for your team. You can also use the projector throughout the year at other corporate events, including trade shows.
Building Facade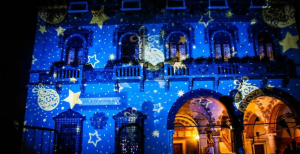 Large commercial or public buildings can come to life after dark with large-scale holiday projections. Create the illusion of falling snow or decorate the facade of a multi-story building with giant ornaments or snowflakes against a colorful backdrop. How do you cover such a large surface with bold colors and crisp images? GOLUX large-scale projectors have the ability to cover entire building facades with still or moving images.
Central Plaza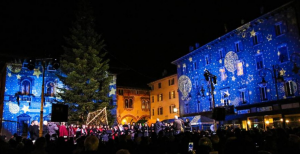 With the short days and long nights, gobos are the perfect way to light up an outdoor space. From skating rinks to central plazas, gobo projections can add both color and a holiday theme to a public gathering place.
Related post: 5 Stunning Holiday Light Displays for Public Spaces
———
Recommended Indoor Projectors: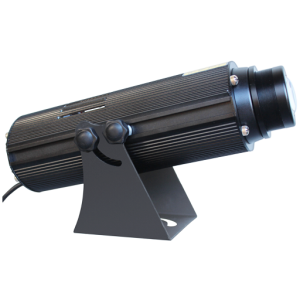 For smaller spaces, we recommend the Eco Spot LED10 indoor projector. It's both compact and powerful and is perfect for projecting a single image, like a tree or stack of gifts.
If your indoor space gets a lot of outdoor light, you may need a brighter projector. The ECO Spot LED C60 provides the maximum light output for its size—just 13" long and 7.75" tall.
For spaces that require a wall or ceiling mount projector, the ECO Spot C25 offers both an easy mounting feature and high-quality optics.
Recommended Outdoor Projectors: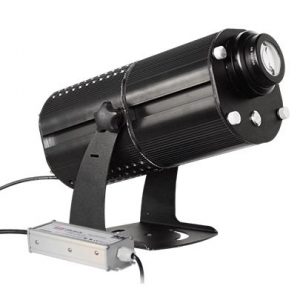 The ECO Spot C25E, C60E, and B90E are all weather resistant and can also be used indoors. The C25E is the lowest wattage at 24W. This is a good option for outdoor spaces with less competing light. For locations competing with street lights and illumination from nearby buildings, the B90E is our brightest option of the three at 90W. This projector will project bold, crisp images even with a significant amount of ambient light. The C60E is right in the middle with a 60W lamp.
For large-scale projections, such as across the facade of a shopping mall or corporate building, the GOLUX Large Scale Projectors provide the widest range of features and the best quality projection.
Recommended Special Effect Projectors and Accessories:
The Liquid Effect Projector adds movement to your holiday images for a truly eye-catching scene.
To create the effect of falling snow or continuous movement to a large pattern, the GOLUX Large Scale Projectors come with multiple Effect Wheel options. Choose from five options: Christmas, Snow, Stars, Cookies, and Angels.
With a gobo projector and holiday gobos, you're fully equipped to decorate any commercial indoor or outdoor space with ease. Remember to use your gobo projector throughout the year to add impressive lighting to any event. You can even use a custom gobo in your lobby, storefront, or other well-used space to showcase your logo, tagline, or perhaps your company mascot.
For more ideas on how to use gobos for commercial purposes, check out these related posts:
Want to make sure you don't miss new product releases, gobo lighting tips, and special deals? Subscribe to our Newsletter