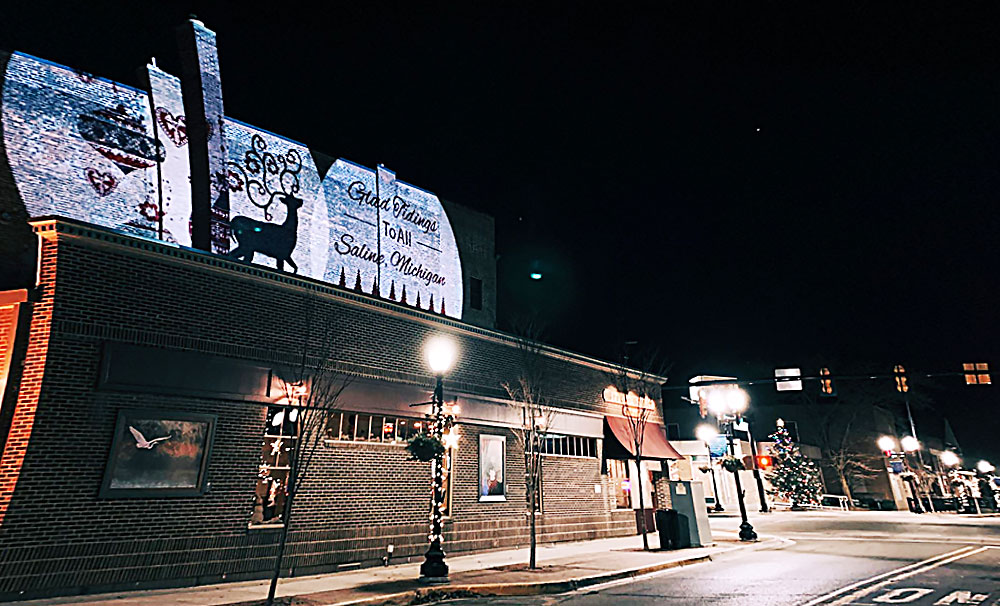 As the days get shorter and the holidays draw near, there are more opportunities for virtual signage. Your business can use projections to brighten your space for the holiday season while continuing to keep employees and the public safe with virtual COVID-19 signage.
Here are several lighting ideas with recommended projectors for a variety of settings.
Small yet impactful outdoor projections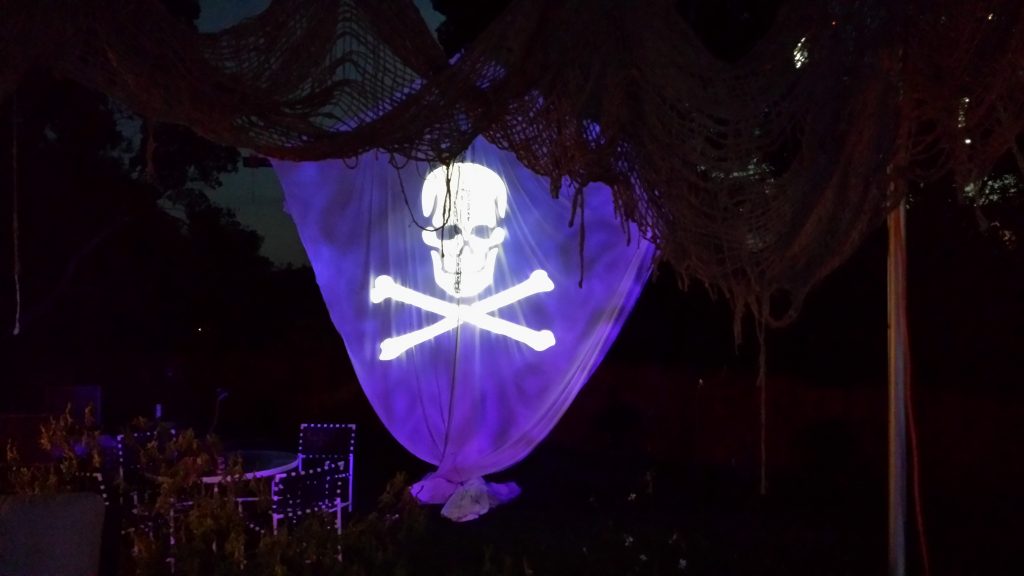 Create small yet impactful and bold outdoor projections with the ECO Spot C20PCE Gobo Projector. When you're trying to fit signage onto a smaller canvas, you need a projector that ensures a bright, bold image so your projection isn't overlooked. The C20PCE is designed to withstand the elements outdoors and is compact enough to fit in most any mounting location. Pair with film, metal, or glass gobos and any lens combinations.
Social distancing markers are a perfect example of a projection that needs to be small yet impactful. Try designing a holiday-themed marker to make your customers smile while gently reminding them to maintain six feet from other customers and your employees. For Halloween, try swapping out the standard footprints in our "Stand Here" gobo for a pumpkin. Or, design a custom gobo that features a skeleton wearing a face mask or simply add a Santa hat to the traditional face mask gobo for Christmas. You can also order our stock COVID-19 gobos in holiday colors, like red, green, and gold.
Don't forget classic holiday projections like ornaments, snowflakes, and wintry landscapes to dress up storefronts and public spaces like a downtown central square. Holiday projections are also a great way to beautify construction zones at night.
Medium-size or small projections with competing light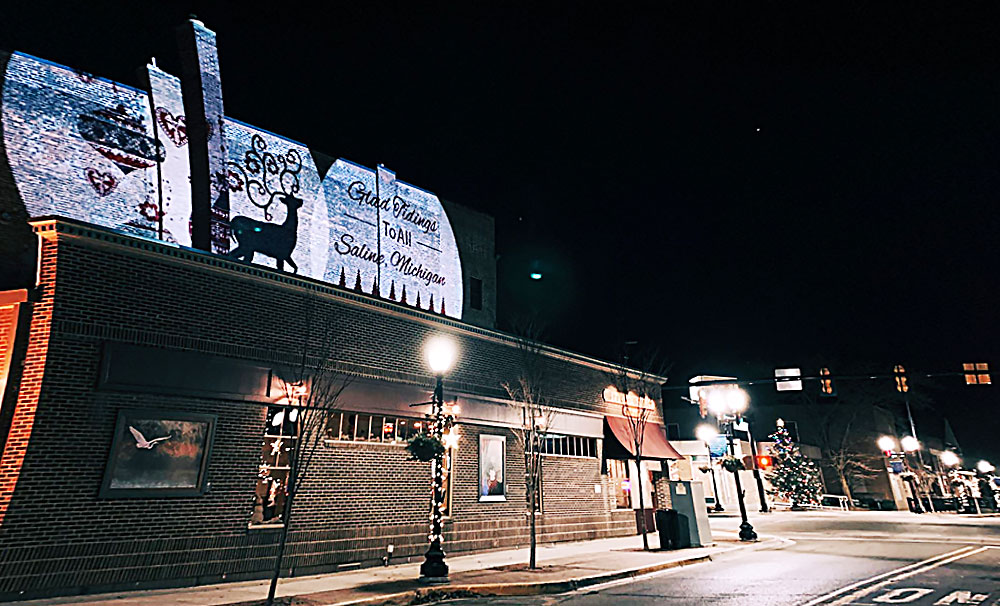 Without the right projector, outdoor projections can appear blurry or faded. This most often happens because of a significant amount of ambient or competing light, such as a city block with lots of streetlights or illuminated signage. These additional light sources compete with your gobo projection, making it appear dimmer and slightly fuzzy.
To ensure a crisp, bright projection, use a projector like the ECO Spot C40PCE for holiday displays or any holiday projection in an indoor or outdoor space with competing light. You can also add movement to your projections by using the ECO Spot C40E for optional image rotation.
Large, bold outdoor projections at a distance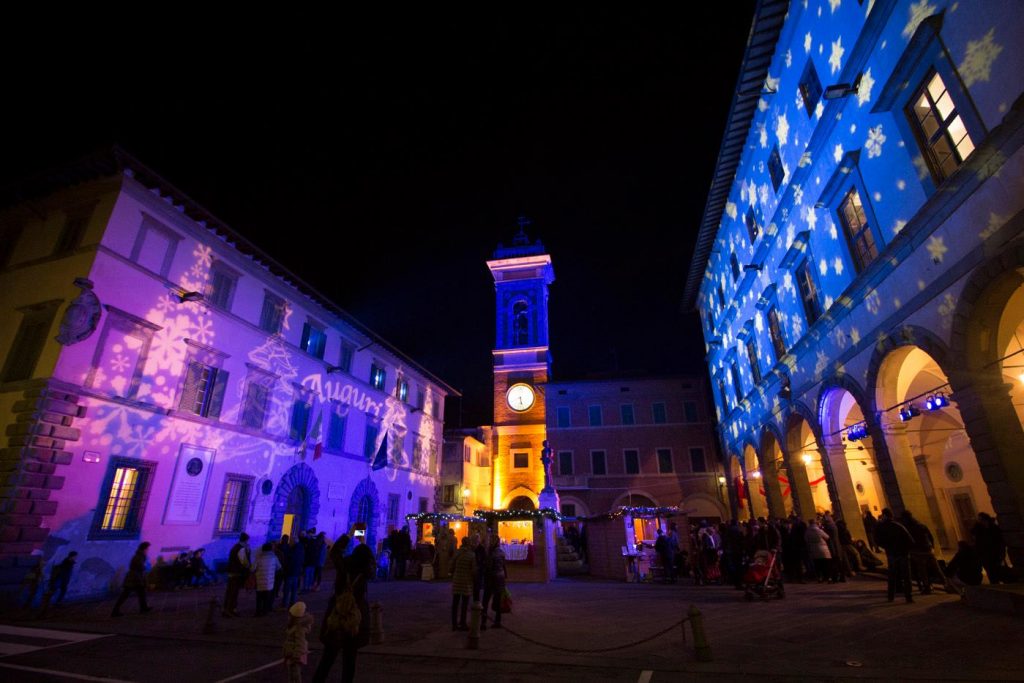 The holidays are a great time to feature larger-than-life lighting displays. Use the Eco Spot LED B150E High Power Gobo Projector or our line of GOLUX Large-Scale Projectors for exterior architectural and animated lighting projected from a distance. The B150E is ideal for large, powerful projections up to 60ft in diameter outdoors and 15ft indoors and can be mounted up to 300ft from the projection surface.
The GOLUX Plus has an integrated zoom-lens, which allows for a projection range of 20ft to over 500ft and a projection size of more than 120ft. This projector is your best choice for creating truly magical light shows on wide architectural surfaces or even natural features like mountain sides. It allows you to project a moving pattern across a very large surface, such as a multi-story building, outdoor plaza, or ice-skating rink. The projector's extra-wide rotations create a more realistic effect for falling snow and adds depth to otherwise flat surfaces.
Try projecting a giant Christmas tree across your storefront's facade, inspiring wonder and joy while also drawing attention to your business. You can also bring your building, courtyard, or even a public square to life with large-scale moving projections. Our effect wheels create magical scenes like snow falling down the facade. For Halloween, transform your parking lot or storefront with a slowly spinning scene of jack o'lanterns, ghosts, and spiderwebs.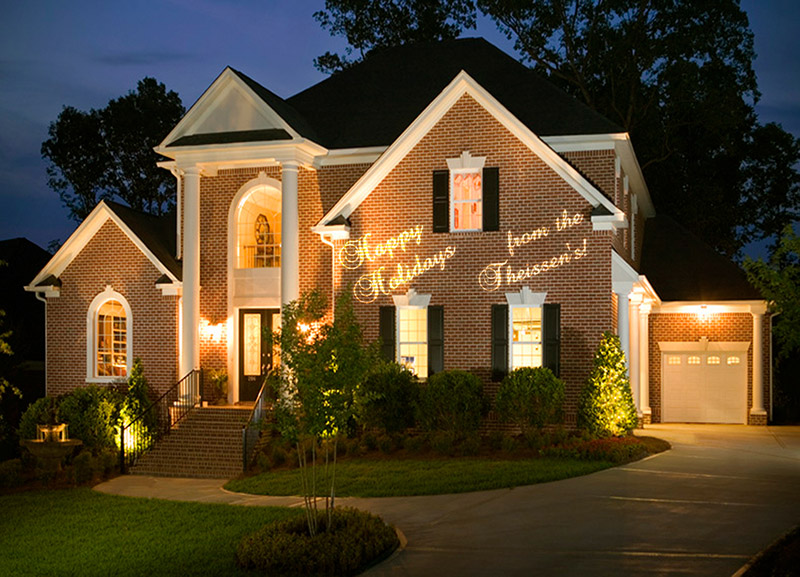 For a more branded approach, try projecting your logo with a holiday message several stories up across the face of a multi-story building. Keep it warm and friendly with something like, [Your Brand Name] wishes you and your family a merry holiday season.
Additional inspiration for holiday projections
Looking for more holiday lighting ideas? Check out our wide selection of holiday gobos with designs perfect for Halloween, Thanksgiving, Christmas, and more or design your own. Also don't miss these related posts:
Don't miss out on the latest virtual projection tips, ideas, and exclusive offers delivered to your inbox once a month. Subscribe to our newsletter.