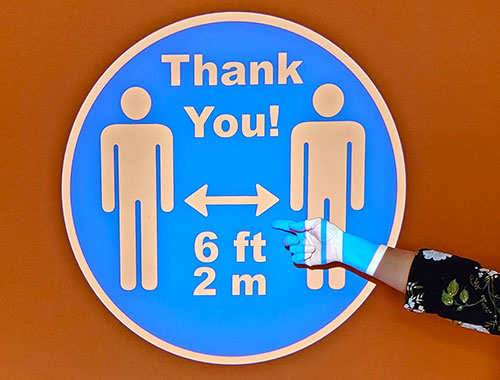 Whether you're a restaurant, hotel, retail shop, or office, COVID-19 signage is a must in order to safely allow people to return to work and serve customers in person. It's important to install signage that will effectively remind workers and patrons how to safely behave while in your space. Perhaps equally important is displaying this signage in a way that doesn't detract from a customer's experience and maintains the intended look and feel of your establishment.
Paint, adhesive or virtual signage?
There are three primary options for this signage—paint, adhesive, or virtual—but we strongly believe that in most cases, other than daylight conditions, virtual performs best. Paint is too permanent a solution for most businesses when it comes to COVID-19 signage. Adhesive signage, while less permanent than paint, is still hard to remove and will wear away and become dirty with foot and/or vehicle traffic. Finally, they're often overlooked in low lighting or busy settings. Virtual signage, however, overcomes all of these obstacles, providing highly-visible, durable, and easily movable signage for any work environment.
Virtual signage will make your life easier
Virtual signage is easy to install, only requiring a gobo projector and gobo. The projector can be mounted out of sight on the ceiling or on a wall above eye-level, or set on a shelf or table for easier access. Once installed, the projector requires little to no maintenance, providing significant cost savings over time. Your virtual signage gobos can also be used again and again and are easily moved to wherever signage is needed—simply redirect the projector for adjustments or move your projector for new signage placement. Lastly, virtual signage requires no additional lighting to stand out in poorly-lit environments. Dim to dark settings is where virtual signage (literally) shines.
There are several options to get started with virtual signage to achieve compliance, keep people healthy, and, in addition, promote your business. Here's how:
Project ready-made COVID-19 signage for fast and easy safety compliance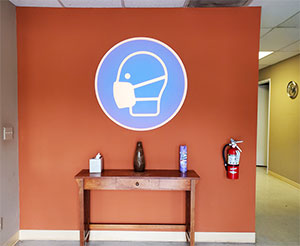 Use ready-made COVID-19 signage to remind workers and customers to follow CDC guidelines, such as to always wear masks indoors, maintain six feet between yourself and any other people, and to stay home if you exhibit any COVID-19 symptoms. With the proper gobo projector, these signs can be projected indoors and outdoors (before or after the sun has set or if in sufficient shadow), on most surfaces, and in almost any size to fit your space. We've put together affordable turnkey projector-gobo bundles to ensure you have everything you need to easily display your safety signage. These bundles are both convenient and customizable, allowing you to select your preferred size of sign and installation distance while we do the rest.
Related post: Tips for Using Gobos in Brightly Lit Environments
Custom signage for branded images and messaging
Custom signage is a great way to incorporate your branding into your safety messaging. Designing your own COVID-19 safety signage can help make your space feel more inviting and maintain the atmosphere you worked so hard to create for your patrons. Using your brand's colors and fonts is a simple way to customize the signage without distracting from the safety reminders. You can submit your own artwork or have our team design custom signage for you based on your specifications.
Use virtual signage to thank essential workers and loyal patrons
Thank essential workers for their role in keeping the economy running and your patrons for continuing to support you through these tough times with a custom virtual sign. With an exterior projector you can display your message of gratitude somewhere prominent such as the exterior of your building or on the sidewalk in front of your business.
Attract customers with virtual marketing signage
It's essential that you have safety signage in place before you reopen for business, but it's also important to attract customers with promotional signage. A custom gobo with your logo and company name projected large-scale on your building's exterior will turn heads and visibly remind patrons that you've reopened your doors. A new, bold virtual sign is also a great way to celebrate your reopening and put the spotlight on your success. Your business is still here and you've persevered and innovated to ensure you were able to open your doors again to the public—this fact is one that deserves the spotlight.
Related Posts:
Don't miss out on the latest virtual projection tips, ideas, and exclusive offers delivered to your inbox once a month. Subscribe to our newsletter.