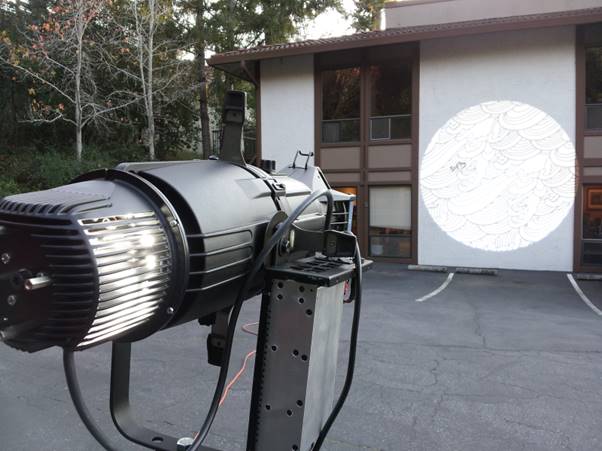 When you picture a 'gobo in the wild,' what's the first type of event or venue that comes to mind? Most people naturally associate gobos with nighttime events like an evening gala or dinner fundraiser, but gobos have their place during the day as well. From ballgames to BBQs, gobos are an effective marketing tool and decor option, even as the days grow longer.
Here are some tips to make your gobo stand out both outdoors and indoors when the sun is shining:
Outdoors: Find (or create) a shady space
You can't easily see a gobo projection in a fully lit environment. Think of it like a movie theater: the projection becomes brighter as the lights dim. The same goes for a conference: the lights are always turned down low before the scheduled speaker presents her slides. This lighting requirement makes outdoor gobo projection during the day a bit more challenging, but not impossible.
Baseball stadiums often project the home team's logo in the shade of the food vendors' awning. You know that space at the top of the grandstands with all the hot dogs, beers, and pretzels? That's the perfect place for a gobo projection. It's still outside in the middle of the day, but a shady spot can provide just enough darkness to make a gobo projection stand out.
Custom gobos with your company logo are also popular at corporate events such as a company BBQ. The shade of a tent or the awning of a building are both good choices for your projection surface. If you don't have a way to create shade, then work with the natural environment. Choose a tall building or hillside that faces east so that it will be cast in shadow in the late afternoon.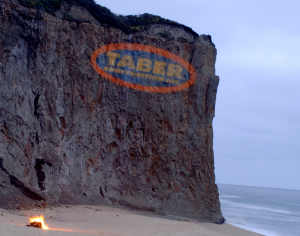 Recommended Projector
For daytime outdoor use, we recommend the ECO Spot B40E for black and white images up to 4 feet in diameter and the ECO Spot B150E for larger black and white images up to 7 feet in diameter. It's important to be aware, however, that once dusk sets in and it begins to get dark, the projection size could double or even triple. For larger projections consider our strongest projector, the ECO Spot 2500.
Indoors: Reduce competing light
Gobos are a great addition to retail displays, especially inside shopping malls with little to no natural light. To increase visibility, tilt track lighting away from the projection surface. If there is natural light in the store, choose a wall that the sunlight doesn't reach to reduce competing light.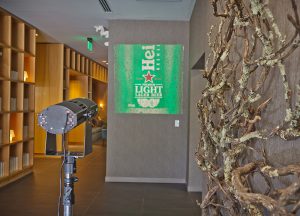 Projecting a logo gobo in your front lobby is a great way to strengthen brand recognition and is an easy decorating solution for a large, blank wall in your entryway. Spaces without ample skylights or large windows work best, but a strong projector and the right lens can help create a bolder projection. (See 'Recommended Projectors' and 'Projection Lens Tips' below.)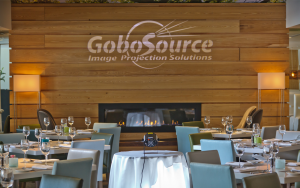 Trade shows are also a popular setting for gobos. A custom gobo with your company name and logo is an eye-catching alternative to a banner. Try using motion sensors so that an image appears on the floor or wall as attendees walk past your booth.
Read more about trade show gobo lighting tips.
Our newest smart projector (coming soon) has controls that allow you to make an image pulsate at different frequencies or fade in and out, without the use of complicated DMX controllers. These small visual details draw attention to your gobo image and draw customer's eyes to a retail display or attendees to your trade show booth.
Recommended Projector
For indoor use, in very bright environments, we recommend the ECO Spot C60 for black and white images up to 4 feet in diameter and the ECO Spot B150 for larger images up to 7 feet in diameter.
Projection Lens Tips
Choosing the right projection lens for your projector is also a critical component to achieving a clear, bright projection. Our color-coded projection chart will help you select a lens based on the several factors, including how well-lit your environment is. The chart goes from green (the brightest environments, such as an outdoor space during the day) to red (typically for projections at night). Keep in mind that your projection distance and image size also affect the resulting brightness of the image.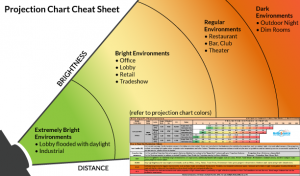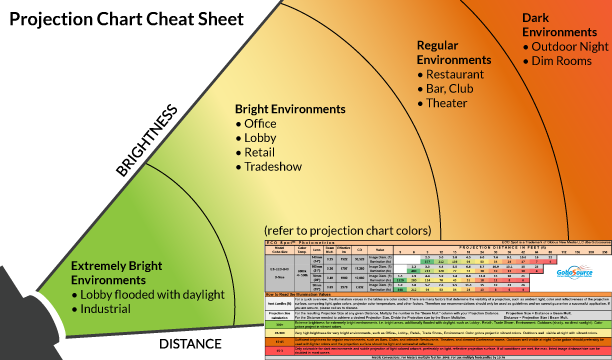 Add motion effects
An indoor daytime gobo projection will never be as bold and bright as a gobo projected against the black of night, but you can add motion effects to increase visibility and attract attention. Gobo changers allow you to switch through up to four images. The Liquid Effect Projector can transform any surface into a flowing water or fire feature. The integrated color wheel slowly changes between red, blue, yellow, and white or can be paused to feature just one color.
Gobos Day or Night
Gobo projectors weren't always strong enough to be effective during the day and in brightly lit indoor environments. Fortunately, you can now project day and night with great results. Try using gobos at your next outdoor event before the sun sets or transform your front lobby with a well-placed custom gobo–with the right set-up, there are few limits to where you can project logos, lettering, patterns, and more.
Want to make sure you don't miss new product releases, gobo lighting tips, and special deals? Subscribe to our Newsletter