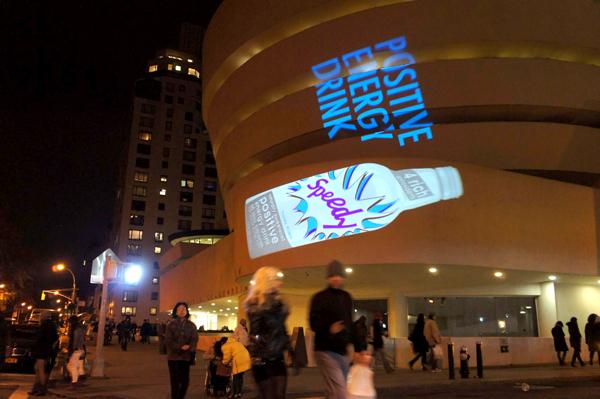 As an ambitious entrepreneur, you're always trying to find ways to make your company's brand stand out from the competition. With so much noise, it's important to invest in advertising that will improve brand awareness, making your service or product top-of-mind. For both indoor and outdoor advertising, logo projection is an effective way to prominently display your logo and capture the attention of potential customers.

Logo projection is both versatile and affordable, allowing you to use a variety of surfaces, such as an interior wall, building facade, or large floor space, to project your advertising message. But how does it work and what is required to get started? Here's what you need to know to build brand awareness through logo projection.

How does logo projection work?
Logo projection requires a gobo, gobo projector, and a projection surface. The gobo is a small disc or template made of film, metal, or glass that carries your logo design or other desired image. The gobo is placed into a gobo projector and when light passes through the lens, the image appears on the selected surface. It's important to select the right type of gobo for your specific design, as well as the right projector and projector lens, to ensure a crisp, clear image.

Glass, metal, or film gobo?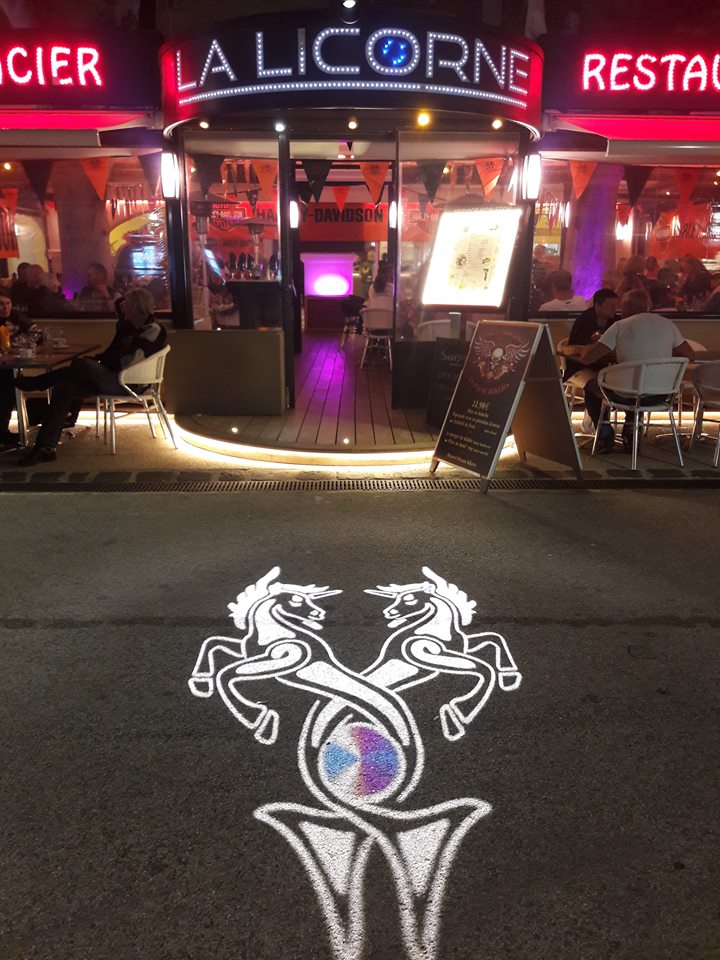 The type of gobo you choose depends on your logo design and your budget. Glass gobos typically result in a higher quality image, especially for more complex logos, and allow for more than one color. Glass, unlike metal, doesn't require tabbing or bridging—a thin line of metal that breaks up certain letters and designs in order for the design to hold together. This makes glass a good choice for flowing scripts or detailed designs.

Metal is less expensive than glass and can work well for simple logo designs where tabbing is less obvious or isn't required. If your logo includes more than one color or color gradation, however, glass is required.

Lastly, film gobos are the least expensive option of all three and they can support full-color, complex designs. This delicate material, however, only works with low-powered projectors and has a short lifespan of just a few hours to a week. A metal or glass gobo, however, can last for years. Learn more about the three main types of gobos in our blog post, The Difference Between Glass, Metal, and Film Gobos.
How to choose the right gobo projector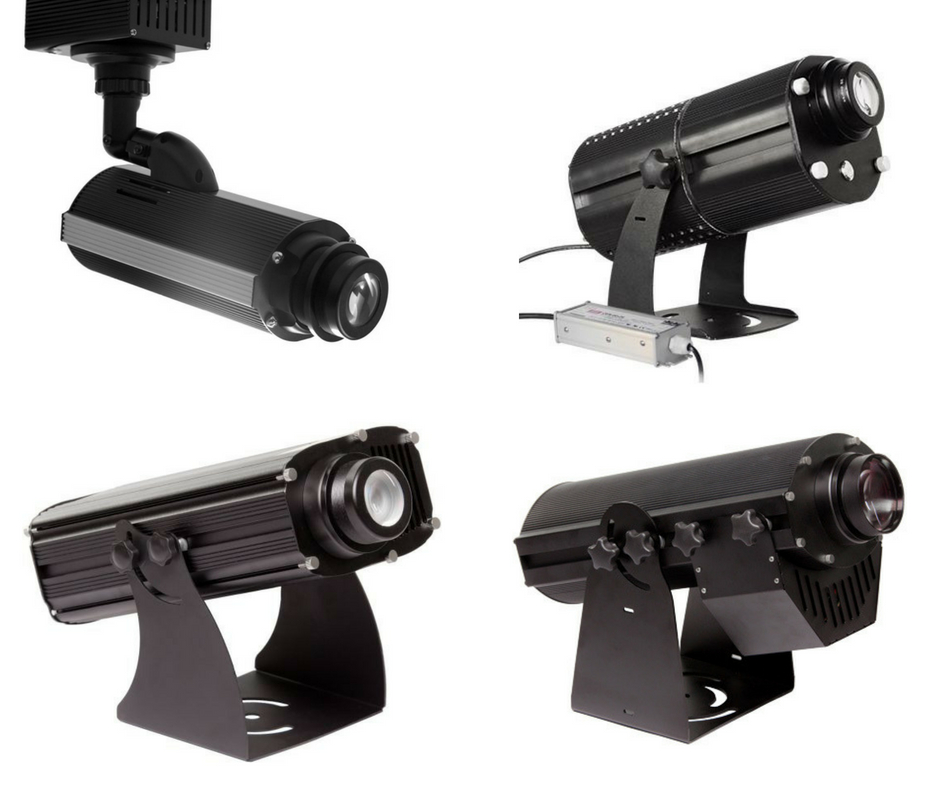 Your gobo projector plays an integral role in the clarity and brightness of your logo or other marketing image, so it's important to choose the right one for your desired application. The primary factors to consider are the desired image size, where you plan to project your logo (interior or exterior), and the ambient brightness (how much competing light will be in the space?). Below are three gobo projectors that can accommodate typical advertising requirements.

The GOLUX projector is our most powerful option for large architectural and environmental projections. Use this model to project your logo across a skyscraper or other large surface—the GOLUX projector will work either at close range or long distances up to 3,000 feet. The included zoom lens allows for crisp, bold projections even when the projector is positioned far from the resulting image. The high-power lamp also ensures your logo or other marketing image is visible even in bright environments. Check out our post, Must-Try Alternatives to Billboard Advertising for ideas on where to project your logo large-scale.

GOLUX Stats:
Range = 50-3,000ft
Wattage = 1100W
Gobo size = E-size

The ECO Spot B150E LED Gobo Projector is a versatile projector at a lower price point than the GOLUX. While it doesn't cover as long a range as the GOLUX (up to 300ft depending on the ambient lighting), it can still accommodate large projections with M-size gobos. Achieve indoor and outdoor projections for a variety of marketing campaigns.

B150E Stats:
Range = 12-300ft
LED wattage = 150W
Gobo size = M-size

This is one of our most compact projectors, making it great for travel to multiple locations and convenient to mount in smaller spaces. The ECO Spot C40E LED Gobo Projector works well with shorter ranges of 8-150 feet and with smaller image sizes. Use this model for projections meant to be viewed up-close, like a floor projection or across the front of a building at ground-level.

C40E Stats:
Range = 8-150ft
LED wattage = 40W
Gobo size = E-size

How to select the right lens for your gobo projector
Lastly, you'll need to select the right lens for your gobo projector. To do this, we've created a Projection Chart Cheat Sheet based on brightness and distance to help you make the right selection.

Where to project your logo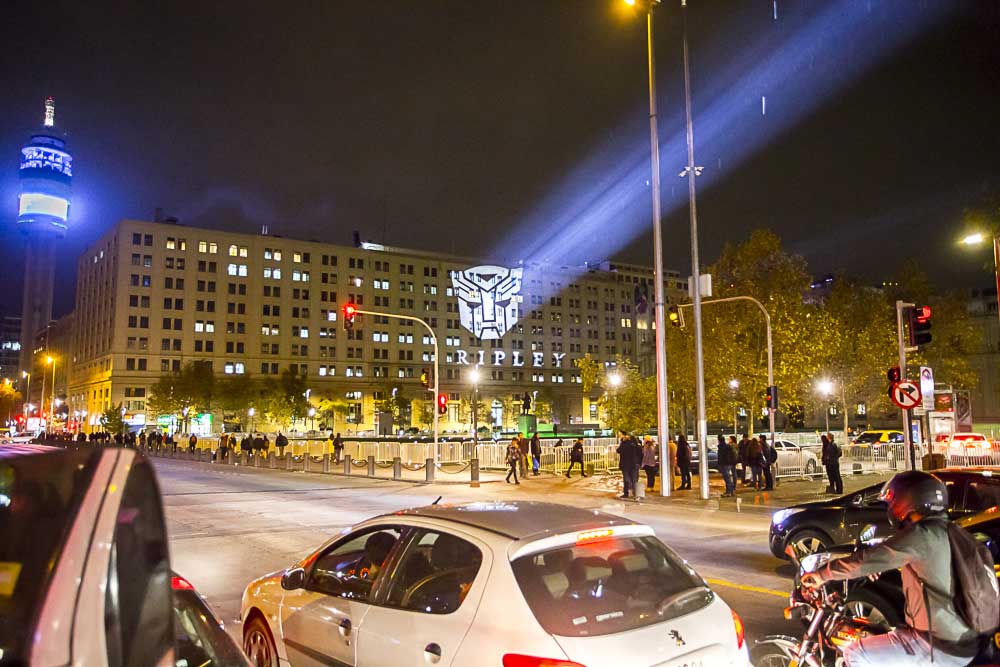 The great thing about logo projection is the number of surfaces available as your marketing canvas. Unlike printed or digital signage, you're not limited to a specific size or space. Often the same gobo can be projected both large-scale across the side of a skyscraper and small-scale on an indoor wall or open floor. The following tips will help you achieve a highly visible logo projection on the surface of your choice.

Indoor Projection
The most obvious canvas for indoor advertising is across a wall or floor in the front lobby of your building or at a tradeshow or other corporate event. Interior wall projections work best in dimly lit environment, but with a few modifications you can achieve a bold image in brightly lit environments as well. Floor projections work well in spaces with an open floor plan, ensuring the entirety of your logo is visible to people walking through the room. Try advertising on the floor of an airport terminal, shopping mall, or sports arena.

Outdoor Projection
Outdoor projection can catch the attention of more people but will only be visible starting at dusk, unless you find a shady area to project your logo. If your company headquarters is based in a large, multi-story building, highly visible from a highway or other busy public space, logo projection is a great alternative to billboard advertising. Sometimes, you can get permission to project in a public square or park, creating an unexpected and highly memorable advertising moment. Whatever you choose as your canvas, outdoor projection is a great opportunity to project your logo large-scale—just make sure to follow these tips.

Non-traditional surfaces
Projecting across a wall, the floor, or on the side of a building is typically a straightforward endeavor because the surfaces are relatively smooth and flat. You can also experiment with projecting onto non-traditional surfaces such as water, curtains, or a cliff-face. These surfaces pose unique challenges, but with the right lighting and projection angle, you can find even more spaces for your logo projection.

Additional features
Create additional eye-catching effects to your logo projection through motion and the use of color. Use a gobo changer to automatically or manually switch between colors or images, like your logo and a marketing message. Design several logo gobos, for example, with different color backgrounds in your brand's palette and rotate through each using the gobo changer functionality. A gobo rotator allows you to rotate a single image around its center in a circle. This motion effectively captures attention, but be sure when using a logo gobo to rotate it slowly enough so viewers can still read your company name and decipher the image. Lastly, select projectors now offer dim/blink/fade controls (look for a '+' in the model name). Learn more about adding motion effects to your gobo projections here.
Expand your marketing canvas with logo projection
Adding logo projection to your marketing toolbox will greatly expand your advertising opportunities. There's no reason to limit yourself to paid ad space or to a physical sign above your door. You can use a custom gobo and a versatile projector for multiple ongoing marketing campaigns, from onsite workplace branding to offsite brand awareness, at trade shows, conferences, and corporate events.

Get in touch today to create a logo projection advertising toolkit you can use again and again.  
Further reading:
The Difference Between Glass, Metal, and Film Gobos.
Must-Try Alternatives to Billboard Advertising
Large-Scale Outdoor Projection 101
4 Workplace Branding Ideas for Modern Companies

Want to make sure you don't miss new product releases, gobo lighting tips, and special deals? Subscribe to our Newsletter